URGENT ANNOUNCEMENTS
(reserved for committee-approved announcements: routine announcements can be found further down the page.)
This is a reminder to members that henceforth our monthly meetings in the Pemberton Centre will be in the sports hall not the main hall: to the left on entry into the building. Please where possible no stiletto heels as they will cause damage to the floor.
----------------------------------------------------------------

A number of members have requested and been issued with a user name and password for this website. The committee has now decided that there will no longer be a "members only" page on the website, and logins will henceforth only be issued to group leaders and other administrators.
Members wishing to contact group leaders more urgently than by e-mail can now find their telephone numbers via Beacon: see the foot of this page for details.
----------------------------------------------------------------
We still need more "meeters and greeters" for the monthly meetings. If you would like to help out in this role please get in touch with Steve Evans (Front of House) via the Contact page.
What is the University of the Third Age, or U3A as it is often known?

The University of the Third Age (U3A) movement is a unique and exciting organisation which provides, through its U3As, life-enhancing and life-changing opportunities. Retired and semi-retired people come together and learn together, not for qualifications but for its own reward: the sheer joy of discovery! Members share their skills and life experiences: the learners teach and the teachers learn, and there is no distinction between them.
Further brief details about the movement can be found here, or for the full story of the U3A movement's national organisation, the Third Age Trust, click here to open the national U3A homepage in another tab. For further details of the Higham and Rushden U3A, please carry on browsing this website.
If you would like to join us you can find a membership application form here or among the many documents available on the Administration page (although you will need to scroll down the page).
The slideshow below, which you can pause by holding your cursor over one of the dots in the progress bar below it, is of local images.
Many of these pictures were taken from the internet, so we need input from members! Please send your local pictures to us via the blog page.
Higham and Rushden U3A news:
DAYS OUT CAR SHARE news:
Tulip Time at Chenies Manor, Buckinghamshire is very special.
Tuesday 30th April leaving Higham Ferrers at 11:45 am then Rushden at approx 12 noon, we will have a guided tour of the house with the garden at your leisure.
As this is a private visit we have booked tea and biscuits for everyone. We will be leaving the venue at 5pm.
R B travel have quoted the same price as 2018. Entrance to Chenies with tea and biscuits is £10 50. I will confirm price ASAP.
Chenies Manor House is one of the UK's finest Tudor Mansion Houses. Steeped in history, the Grade I Listed building is set in Buckinghamshire's charming estate village of Chenies and overlooks the Chess Valley. The venue's grounds boast award winning gardens and original 13th Century features including a Mediaeval well, a dungeon and a reputed priest hole.
===========================================
Coach trip Sunday 11/8/19 Springfields Shopping Centre, a good place for lunch or take a picnic to enjoy in the garden. Afternoon at Burtey Fen Collection for a Compton and Wurlitzer organ concert with Nigel Ogden (recently retired presenter of Radio 2's The Organist Entertains).
BOOKING NOW. Check the link here for more information on Burtey Fen: It's a lovely venue, very small.
To reserve a place on either trip please contact Linda & Chris 01933 387892
===========================================
At least 2 members collect used postage stamps for charity, so from now on there will be a box at each monthly meeting into which members can deposit their stamps, secure in the knowledge that they will go to a good cause. Initially (if not permanently) the box will be on the membership desk near the entrance.
January message from the chair

Dear Members.
Today I'm beginning my Chairman's chat on the morning of 1st January 2019. So happy new year, members!
My husband and I partied last night with friends we met through U3A. I have often in the past just gone to bed having watched the new year in from the comfort of an armchair. Many of you will I'm sure have done much the same.
But spending time with friends is really important to me.
U3A though educational has always been a conduit to social interaction, a chance to meet old friends and make new ones. A chance to learn and exchange views over a cup of tea or coffee following what we hope was an enlightened presentation by the month's speaker.
I hope this year will see more groups of interest added to our list of activities as we have ended 2018 having lost a few.
YOU are our U3A and it cannot function without people wanting to lead. We know it's not easy and we will try to help and support those who wish to set up a new interest group. In the first instance please contact Groups Coordinator Lyn Gale through the contact page on the website.
And Thank You All.
Angela Mason
NB The Newsletter is available online from the Sunday before each Pemberton Meeting.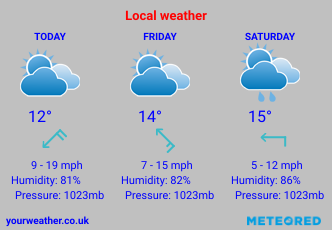 National U3A news
Interested in a regional U3A Email newsletter as well as our own local one?

Visit u3a.org.uk/email and fill out your details for news, events and regional updates direct to your inbox: you will need to decide whether East Midlands or East of England is more appropriate.
Higham and Rushden U3A monthly meetings
Make sure you don't miss our interesting talks on the third Wednesday of the month by making a note in your diary.
Meetings now start at 1.45 pm prompt at the Pemberton Centre, HE Bates Way, Rushden, NN10 9YP. Visitors are welcome at £3 per meeting for a maximum of 2 meetings. Note also that from January 2019 we will be in the sports hall (turn left at Reception) rather than our traditional venue of the main hall.
At some point in 2019 we will have to relocate our meetings to the Rushden Historical Society "shed", although the date of our last meeting at the Pemberton Centre has not yet been agreed. In the meantime smaller events such as Group Leader meetings and Committee meetings will with immediate effect use the shed. Directions to the shed can be found here.

Date

Venue

Topic

Speaker

__________________
_________________
____________________________________________________
_____________________
February 20th
Pemberton Centre
The Life and Times of Franz Lehar and The Merry Widow
Mr. David Price
With video, music and artworks.
March 20th
Pemberton Centre

'Oh Matron' The History of the Carry on Films

Steve Dimmer

With video,music and artworks.

April 17th
Pemberton Centre
Discovering MacDonald Gill
Caroline Walker
MacDonald 'Max' Gill (1884-1947, brother of the sculptor
and typographer Eric Gill), was an architect, graphic designer,
best known for his pictorial maps. He created painted maps
for houses such as Kelmarsh Hall and Lindisfarne Castle,
magnificent murals for Cunard liners and eye-catching
publicity posters for organisations such as London Underground.
An enduring legacy is his alphabet for the Imperial War Graves
Commission used on all British military headstones since WWI.
May 15th
Pemberton Centre
Sing a Century
Andy Smith

Songs and Instrumentals written and recorded over the last
century. Performing at least one song from each decade, it's
a lovely musical journey spanning 100 years! Everything from
Cole Porter and Charlie Chaplin to Elton John and Adele.

June 19th
Higham and Rushden U3A 10th Anniversary

Celebration tea party with entertainment
July 17th
'Flush with Success'

Kevin Varty
The History of the Smallest Room in the House - the Toilet. With
Historian and Lecturer, Kevin Varty.

August 21st
To be advised
(Details to follow)
September 18th
A soldier's journey
Luke Wigman
An inspirational speaker who has raised over £1M for charity
(Stanford Hall and RAF Benevolent Fund). Was badly injured in
Afghanistan and has won medals at the Invictus Games. He
speaks briefly about the Defence and National Rehabilitation
Centre followed by his life in the Military.
October 16th
"Dancing with Diana" and our AGM
Colin Hill
A talk with photographs by the man who was Princess Diana's
bodyguard for 8 years. Also our AGM.
November 20th
Forging ahead
Steve Dimmer

'Operation Bernhard' was the code name of a secret Nazi plan
devised during the Second World War by the RSHA and the SS
to destabilise the British economy by flooding the country with
forged Bank of England £5, £10, £20 and £50 notes. It was the
largest counterfeiting operation in history. A talk about the setting
up of the operation with an opportunity to handle an actual
forged £5 note.

December 11th
The Corby Male Voice Choir
Note: Second
Wednesday

Sixteen to twenty singers, entertaining us with Christmas and other
popular songs and inspiring us to get into the Festive Spirit.
Higham and Rushden U3A groups calendar
The calendar below is live and being continuously updated by group leaders.
To look at group activities further in advance, please use the scrollbar to the right of the calendar (if there is one) rather than the scrollbar on the right of the web page. If you are only interested in the activities of one particular group, you can select it from the dropdown list next to the word "Group".
Beacon
Beacon is a dedicated database system developed by the U3A nationally which Higham and Rushden have joined along with 150+ other U3A's.
This allows automation of many aspects of administering our branch including tracking of membership, branch calendar of events, details of our interest groups and financial reporting. Generally speaking members will not need to interact with it, but can log in to Beacon by clicking here to check and change their own personal details and also find telephone numbers for group leaders.
Note that there are no separate login details for you to remember: just your membership number, name, postcode and e-mail address as submitted on your last renewal forms.